Approved for

3.0 Continuing Education Credits
Through the NCBTMB (Massage Therapists) and the APTA (Physical Therapists).
Why Learn

MyoFascial Cupping?
Whereas traditional cupping claims to "pulls out toxins" and improve blood flow, MyoFascial Cupping is a powerful new method that does so much more!
Recent research has proven that this new method of cupping can manipulate muscle and fascia to aid recovery, break up stubborn knots and adhesions, flush the lymphatic system, release trigger points, and much more.
MyoFascial Cupping is a system of unique techniques that take a traditional art to the next level. While our hands are amazing massage tools, cups can actually do something our hands can't ever do... Suck!
Why does that matter? Because stuck tissue layers will never fully release by just pushing them together. Adhesions must be pulled apart!
The

New Discovery
Take a look at this MRI study. It is easy to see that the muscle layer is actually lifted inside the MyoFascial Cupping application, which separates and stretches the myofascial tissue underneath it.
This is why some knots never seem to release no matter how hard we dig or rub. Our hands are just squeezing the layers together! MyoFascial Cupping actually pulls the layers apart, freeing fascial adhesions and restrictions.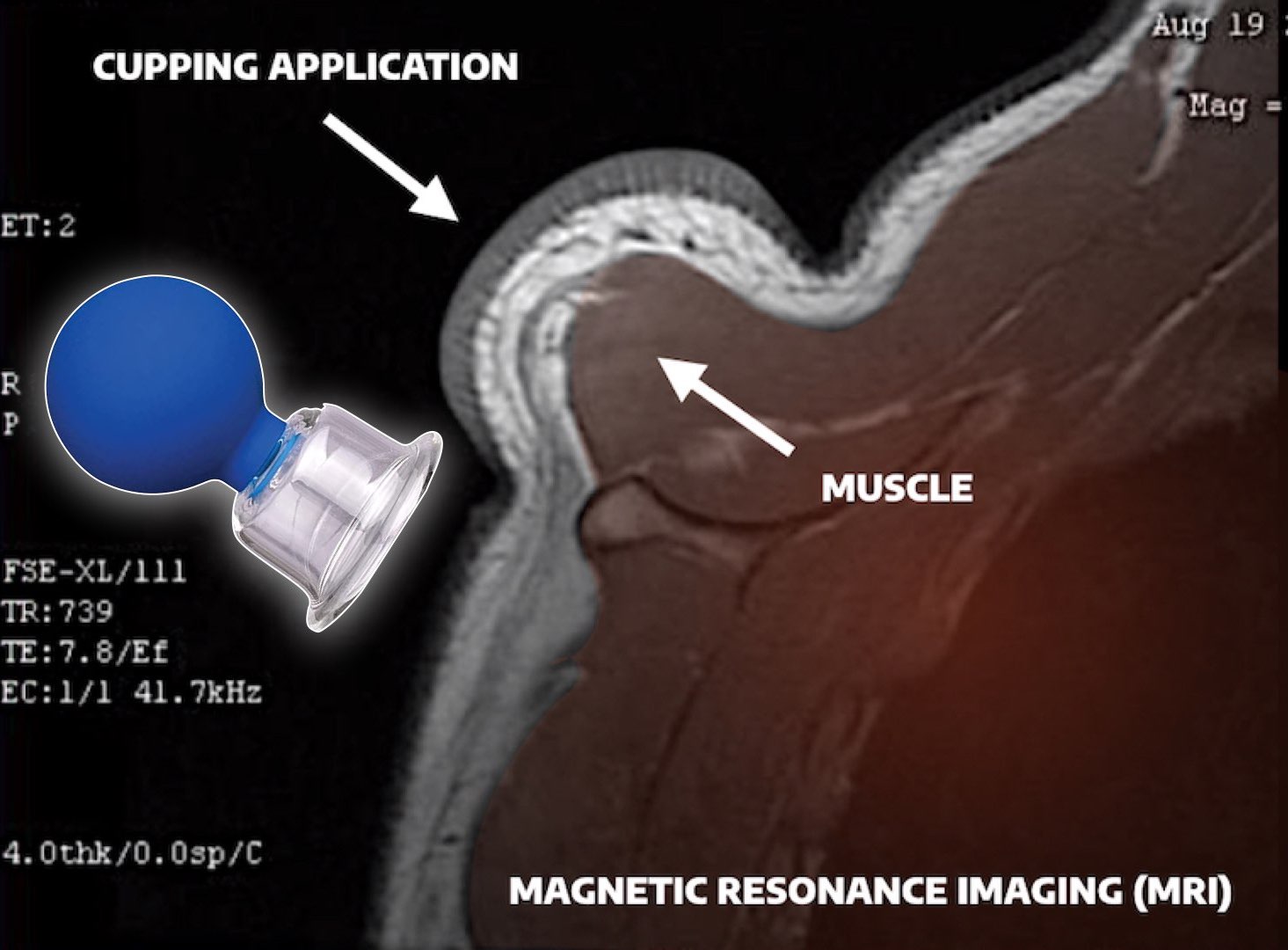 Your

Hands

Won't Last Forever
Nothing will ever fully replace your hands. They are your bread and butter.
But there is a limit to how many miles your hands will take.
Ask any veteran therapist, chronic overuse injuries and burnout are a huge problem, no matter how good your body mechanics are!
When your hands are tired, fatigued, or in pain, working becomes hard and unenjoyable.
And if you don't work, you don't get paid.
That's the beauty of MyoFascial Cupping! Not only is it an amazing tool, it completely removes stress from your hands. Now you can work smarter, not harder.
Worried About the Cupping Marks? 

Don't Be.
It is not necessary to bruise a client in order to get great results!!!
In fact, only a few specific MyoFascial Cupping applications actually leave any marks. Most of the applications you will learn in the course can be performed both pain free and cupping mark free.
Don't get me wrong, some clients love cupping marks (it's a bit of a status symbol these days). But for those who don't, you will be able to deliver amazing results without leaving a mark.
MyoFascial Cupping Will Help You

Stand Out
These days, there's a therapist on every corner. Some therapists already use cupping. But MyoFascial Cupping is unlike any other form of massage (or traditional cupping).
Few, if any, can achieve results like our MyoFascial Cupping students.
Once you incorporate MyoFascial Cupping into your practice, you will stand out from the competition. Which means you can charge more per session, work fewer hours, and spend more free time with friends and family.
Already Use Cups?


You're in for a Treat.
If you already use hold and slide techniques, then you are going to love the advanced training in this course.
You will learn how to integrate dynamic movement into your cupping, how to connect multiple cups in myofascial lines, how to apply lymphatic cupping, how to use cups to release nerve entrapment syndromes, and more!!!
Popular Questions

Answered Inside this Course
What Our Students

Love About this Course
Take a

Sneak Peak

Inside the MyoFascial Cupping E-Course
SECTION 1 - Cupping Foundations
Learn everything you need to know to get started with MyoFascial Cupping (even if you're a complete newbie).
MODULE 1
Introduction to Cupping
Learn the origins of cupping, why it's used, and how to get the most out of it.
MODULE 2
The Cupping Marks
Learn what the cupping marks are (and are not), and how to avoid them.
MODULE 3
Cupping Safety & Precautions
Learn when to use cupping (and when not to use it) to optimize safety.
SECTION 2 - Cupping Strategy
Go deep into how to apply cups, select the right size and type, choose the right suction and dose, and much more.
MODULE 6
Basic Cupping Strategy
Learn to choose the right cup size, shape, suction type, and application.
MODULE 7
Advanced Cupping Strategy
Learn to select the right cupping technique and apply the correct dose.
SECTION 3 - Cupping Techniques
Learn all 11 super-powerful applications to help you solve a wide variety of patient and client problems.
MODULE 10
Desensitization Techniques
To gradually work deeper on sensitive clients
MODULE 11
Pain Modulation Techniques
To alleviate chronic pain that responds to nothing else
MODULE 12
MyoFascial Stretch Techniques
To quickly improve range of motion and flexibility
MODULE 13
Muscle Spasm Techniques
To break the pain and muscle spasm cycle
MODULE 14
Trigger Point Technique
To melt away knots that cause referred pain
MODULE 15
Adhesions & Scar Techniques
To safely improve connective tissue mobility
MODULE 16
Tissue Remodeling Techniques
To improve mobility in contractures and shortened tissue
MODULE 17
Stiffness Reduction Techniques
To rapidly release large areas of myofascial tightness
MODULE 18
Nerve Glide Technique
To decrease pain from nerve entrapments syndromes
You Will Also Get

Download Access To...
Course Manual
No need to take notes! You can focus 100% on learning.
Official Course Diploma
Set yourself apart by letting clients know you have advanced training.
Protocols Cheat Sheet
No need to memorize! Your handy cheat sheet will tell you exactly what to do.
And You Will Receive

These Bonuses...
Plus BONUS #1
MyoFascial Cupping Marketing Kit
The MyoFascial Cupping Marketing Kit delivers pre-made templates and turn-key marketing material to help you promote your cupping skills with ease. This kit includes:
8 Instagram Posts
2 Facebook Posts
8.5x11" Flyer
TriFold Brochure
2 Postcard Coupons
Top 10 Cupping Headlines
Copy-Paste Facebook and Email Ads
This kit will not only save you a ton of time and money, but it will help you promote your practice so you can bring in new clients!
No marketing experience required. The kit includes step-by-step videos that walk you through the process of customizing, printing, and posting.
Included Free
Plus BONUS #2
Testimonial Secrets
How to Grow Your Therapy Practice with the Power of Testimonials

Cupping will "WOW" clients. Learn how to capture those moments as video testimonials and then use those testimonials as your most powerful marketing tool. In this 60 min webinar Dr. Cooper will walk you through the step-by-step process of:
Capturing convincing testimonials at the moment of "wow"
Leverage those testimonials to convert prospects into clients
Testimonials will help you grow your practice faster than any other advertising.
Included Free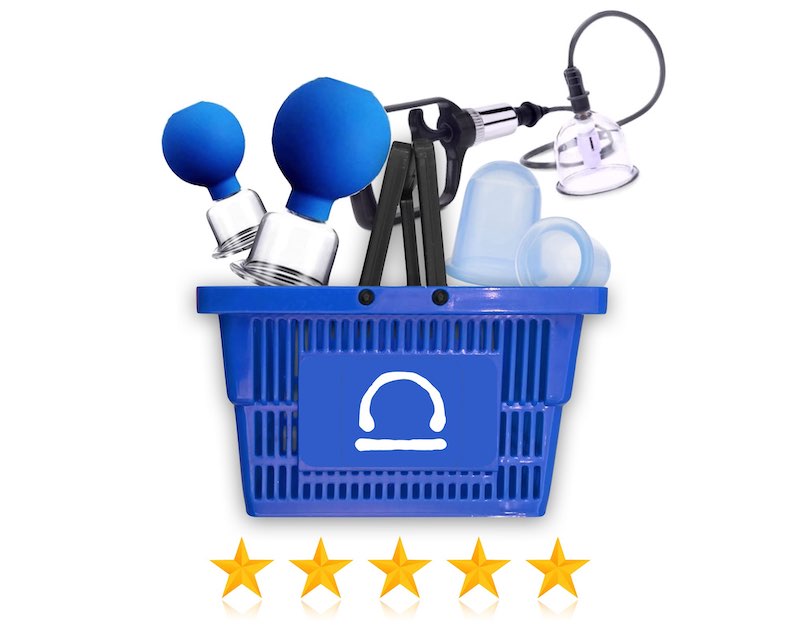 Plus BONUS #3
Dr. Cooper's Preferred Cups List
Avoid buying junky cups and wasting your money. Inside the course are links to Dr. Cooper's preferred cups (the very same cups he uses in his clinic that have lasted for over 10 years.)
Included Free
Plus BONUS #4
MyoFascial Cupping Emblem
This downloadable Advanced Training Emblem can be prominently displayed on your website or business card. Let everyone know that you are expert at MyoFascial Cupping!
Included Free
Plus BONUS #4
Mobile App so you can Watch On-the-Go
Download the Kajabi mobile app to watch all your Cupping content from anywhere. Available for iPhone and Android.
Included Free
Plus our 100% Guarantee
Get "Wow" Results or Your Money Back
Your clients will be amazed at the results they get with MyoFascial Cupping. We're so sure of it, that if after completing the E-Course and trying out what you learned, your clients aren't amazed by their improvements in pain relief and mobility, we will refund you the cost of the entire program.
And, you get to keep all the bonuses!
Here's Exactly

What You'll Get
With your purchase of the MyoFascial Cupping E-Course Bundle
Here's What You Get...
The MyoFascial Cupping
E-Course ($197 value)
✔︎ 18 High quality video modules
✔︎ Lifetime access
✔︎ Course Manual
✔︎ Full Color Diploma
✔︎ Protocols Cheat Sheet
✔︎ Approved for 3.0 CEUs
PLUS these BONUSES...
#1 Marketing Kit ($275 value)
#2 Testimonial Secrets ($96 value)
#3 Preferred Cups List ($29 savings)
#4 MyoFascial Cupping Emblem
#5 On-the-Go Mobile App
⭐️ And Our 'Results Or Your Money Back' Guarantee
$597
$97
Limited Time Offer
ADD TO CART
Limited Time Offer
Lock in Your Price
0% INTEREST FINANCING AVAILABLE
With Pay

Pal

CREDIT.
Over
 

1,522 Therapists Have Taken this E-Course Worldwide!
Meet the Instructor
For over 20 years physical therapist Dr. Jared Cooper (Dr. C) has led continuing education courses in rehabilitation, fitness and performance across the country. He is currently a clinical instructor at the Center for Massage and Natural Health, an adjunct professor at Southwestern Community College, and a former clinical instructor for the Manual Therapy Osteopathic Fellowship at Morristown Hospital, and for the Seton Hall, Rutgers, and Western Carolina University Doctor of Physical Therapy programs. After graduating from Cornell University, Dr. C started his career as a personal trainer and fitness instructor. For over a decade he taught at New York City's top health clubs, and his classes were featured in The Wall Street Journal, The NY Sun, and The Chicago Tribune; ABC News anchorman Bill Ritter called Dr. Cooper's Eastern Sculpt class "the hottest exercise in the country." After earning his Doctorate in Physical Therapy from the University of Southern California, Dr. C opened MOMENT Physical Therapy, an orthopedic practice in Morristown, NJ. Dr. C went on to develop PHYSIOSecrets and the Bodywork Dojo, online continuing education platforms for therapy professionals. Dr. C currently lives in a tiny home near the Blue Ridge Mountains in North Carolina with his wife Karen, his son Renly, and their adorable Aussie-doodle Shae.
Dr. Cooper was featured in...
Here's What Our Students Are Saying

About the MyoFascial Cupping E-Course
Nicole
"Great explanations... Extremely useful. I highly recommend this course to anyone who is looking to add cupping tool to their toolbox."
Mallory
"I loved this course! I learned more than in my actual certification. The instructor gave helpful real scenarios. I love cupping and can't wait to apply these new applications."
Ashley
"The instructor did a wonderful job. This course was perfect to show me new ways to incorporate cupping into my practice. The new techniques will serve me well."
Veronica
"Very thorough and detailed. Easy to follow and practical. Kept me engaged. I am excited to have found this course to integrate into my sports massage practice!"
Miles
"This was a wonderful online continuing education course. Very informative. Looking forward to adding these new techniques into my massage therapy practice."
Nicolette
"I thought the instructor was very helpful and thorough. I love learning different techniques, and I think myofascial cupping is very helpful with tight patients."
Sylvester
"I've had great success with cupping thanks to your course. I'm like the cupping genius in my clinic right now. People are amazed by the results I get."
Sarah
"I really enjoyed this course and learning techniques I didn't know. Going over the different cups was helpful. The instructor was fabulous I never leave for work without cups in my bag."
Christin
"This course had a lot of real life examples that we deal with in practice. The instructor did a great job of explaining every detail. Cupping helps save my hands."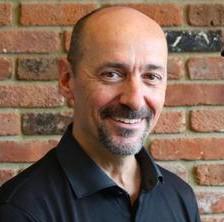 Jack
"Very valuable and effective modality to treat a wide range of soft tissue complaints. Thank you Dr. Cooper for putting this amazing course together!!"
Abigail
"The instructor did a wonderful job. This course was perfect to show me new ways to incorporate cupping into my practice. The new techniques will serve me well."
Morgan
"I found the course to be informative and easy to understand. I really enjoy using the cupping techniques. They are easy on my body and very effective."
Kaci
"Excellent. The instructor was extremely thorough and I really enjoyed the text recaps at the end of each video. It was informative, easy to follow, and comprehensive."
Kristian
"I loved all the practical examples throughout the course. My favorite was the stretch reflex application. Works really really well. Thank you."
Alissa
"The course and information was interesting and helpful. The instructor did a good job of explaining and showing examples. I will enjoy adding cupping to my profession."
Rhonda
"One of the most informative courses I have taken. Client care was foremost. The instructor is knowledgeable and communicates well. I love the diversity."
Kelton
"Perfect for the beginning cupper. The instructor seems very experienced...As a trigger point therapist, I am excited to try this on my clients to see how it benefits!"
Janette
"I can't wait to start using these techniques. The demonstrations were incredibly useful. I so looking forward to incorporating this into my regular practice!"
Tanya
"These techniques will be even more helpful to me in my practice. Dr. Cooper was engaging, funny and easy to understand... A great value and I cannot wait to help my clients even more!"
Lisa
"The instructor and content were excellent. Wonderful online course. Very informative. Looking forward to adding these techniques into my practice. Thank you!"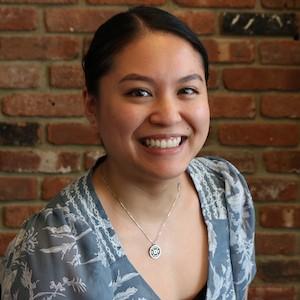 Dani
"This course has totally changed the way I practice. I feel way less worn out at the end of the day thanks to cupping. I can't imagine my practice without it."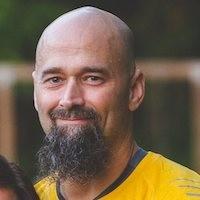 Doug
"I work a with athletes...this course was great at covering ways I can help my clients re-gain their lost mobility. I love cupping ... less wear and tear on my hands."
Elvin
"I learned a lot. Dr Cooper has a wealth of knowledge...easy for the audience to understand. I will definitely come back for more of his courses."
Bozena
"Very informative and practical information, even for seasoned PTs. Well organized, well demonstrated and comprehensive. I give it 5 stars."
Jessie
"Overall enjoyed the course. I love cupping...I have a greater appreciation for it and use it more than anyone else in my clinic. Thank you!"
Elizabeth
"This was a great introduction course. It was really well organized and easy to use. I appreciate having access to the class to revisit the information."
Krysta
"Dr. Cooper is very experienced and well versed. I love all the different applications. I think it's great how he shows you how to avoid bruising."
Pakou
"The course was very eye opening. The instructor was very clear with instructions and visualization. I think I am starting to fall in love with cupping and I just started."
Jennifer
"I saw Dr. Cooper using cupping to diminish bruising post-op knee surgery and I couldn't believe it. I definitely will be saving my hands by using these techniques! Dr. Cooper, you are an awesome instructor!!"
Kristen
"I am looking forward to helping my patients with nerve restrictions. This course and instructor are very helpful and informative. I love the fact that I have another tool to help my patients!"
Kristi
"This course was a great basic course. The instructor was clear and covered a lot of information. I love using these techniques on my clients, friends, as well as myself."
Sonja
"I think this course was brilliant. Excellent explanations. Felt like I was talking to the instructor, simple and easy guidance through the course. I am glad i took this course, it will massively help my practice."
Alexandra
"This course was beyond any expectations I had for an online certification. It was much more complete than previous in-clinic cupping certifications and I appreciated the clinical examples."
Dustin
"The course was great and very detailed on how to use cups. I'm going to love how myofascial cupping will aid in helping my clients feel better without doing so much deep tissue work with my hands."
Esther
"The course was thorough, clear and easy to follow as well as kept me engaged. The instructor was easy to understand and professional. I love myofascial cupping and all it has to offer as an alternative to deep tissue."
Ryan
"This is a great introduction course into myofascial cupping therapy techniques. The videos were really helpful. I really enjoyed the video clips that had actual clinical application with 'real' clients/patients."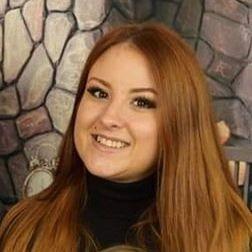 Jessica
"I found the course helpful, the instructor was knowledgeable and easy to follow. I believe myofascial cupping will help me in my practice as an RMT."
Robin
"This cupping course was very informative! The instructor was very clear and concise. I am very excited to add cupping into my practice! Thank you!"
Misty
"This course was so informative. The instructor was easy to follow. I am excited to add Myofascial Cupping along with my massage sessions."
Julie
"I found the course easy to understand and look forward to implementing the techniques with my clients. I LOVE Myofascial cupping and its ability."
Frequently Asked Questions
Are the 3.0 CEUs good in my state or region?
Are cups included in the course?
What if I already use cupping?
Why cup if I can get results with my hands?
Is there a way to cup without the bruising?
Doesn't cupping just increase blood flow?
Can I really learn cupping online?
What is the refund policy?
CE Credit Information

MASSAGE THERAPISTS: Dr. Jared Cooper is approved by the National Certification Board for Therapeutic Massage & Bodywork (NCBTMB) as a continuing education Approved Provider (approval #1708) and is also sponsored by NCBTMB to teach New York LMTs continuing education that is accepted by the state of New York for license renewal.

PHYSICAL THERAPISTS: This course is approved by the New Jersey Board of Physical Therapy (approval #2208-50), the California Board of Physical Therapy (approval #23-51099-1), and the Alaska APTA (approval #02-09-23-03) and therefore meets the requirements for the following states: Alabama, Alaska, Arizona, Arkansas, California, Colorado, Connecticut, Georgia, Idaho, Indiana, Iowa, Kansas, Kentucky, Maine, Massachusetts, Michigan, Mississippi, Missouri, Montana, Nebraska, New Hampshire, New Jersey, North Carolina, North Dakota, Oregon, Pennsylvania, Rhode Island, South Carolina, South Dakota, Tennessee, Utah, Vermont, Virginia, Washington, Wisconsin, Wyoming. In case your state is not listed above, the course comes with all of the documentation you need to independently submit for approval.